There are many views on how to properly expose images on digital video cameras from use of waveform monitors, histograms and zebras, but anyone who's familiar with my approach to lighting for digital acquisition knows I like exposing digital similar to how I would expose film in the sense of not being able to see the image until it was later developed. ie. I use a light meter to expose 18% middle grey at 50%IRE 99.99% of the time. I might shift my middle grey value however depending on the specific scene or if I'm using any special gamma curves to boost specific tonal information in the scene. (On the F3 cinegamma 4 is my all time favourite for boosting the mid-tones)
Having spent the last year to improve my exposure techniques shooting on the digital format using cameras like RED (with a linear and raw based format) or the Sony F3 (with standard or S-LOG gammas) I thought it might be good to delve into the Canon C-LOG to see if I could help clear up any confusion or misnomers on how to properly expose for it.
Whether it's S-LOG, C-LOG, LOG-C or any other flavour of the LOG gamma curve they all have one common goal and that is to preserve as much data information over the entire dynamic range of the camera sensor as possible. Shooting linear gamma (as RED does) or LOG gamma (as does ARRI, Sony F3 and Canon C100/300/500) are at quite opposite ends of the spectrum in terms of what is happening to the spread of data information used to represent the signal and to some degree the "lattitude" that can be gained depending on how you decide to expose either format. Refer to my article "When Raw is not Raw" to help understand the key differences between linear gamma and log/curve gamma formats.
When you start working with C-LOG and learning how to expose it properly what's critical to know is how reflectance values have been re-mapped in the camera giving you "new" exposure levels. Because a LOG image will look extremely flat and lack any contrast it can be very difficult to expose it properly by using your eye, histogram or even a waveform monitor. Your best option is to use a grey card, white piece of paper, and a LCD monitor that can show you the IRE value in a digital readout display. You can also use a lightmeter but since most people don't use one properly I strongly advise you perform an excercise to determing the effective ASA of your camera and lenses and get familiar with the concept (also your meter might be wrong so this is a worthwhile exercise). You can read an entry I wrote on "how to use a lightmeter" with digital which should help cover the basics.
The chart below that I put together is based on information provided from Canon's whitepaper on C-LOG. From the chart you can see how image brightness values are remapped to new values. For example 18% middle grey which is normally 50%IRE moves down to around 32-33%. 90%IRE (white) will appear on your waveform monitor at only 62-63%. It's really important to use these new values (even if you don't understand them) when setting your exposure in C-LOG mode since it will maximize the dynamic range your sensor is capable of and preserve as much of the scene information as possible. This "maximum" amount of information is needed later when you de-LOG your footage and begin grading and color correcting in post.

Also observe how changing your ISO on the Canon will impact your exposure lattitude below and above your middle grey point. In essence this allows you to chose an ISO that will let you retain specific image detail for a particular scene. Perhaps if it is low-key, flat, or high contrast. For any DP this an extremely powerful feature because it allows you to select exactly what you want to protect for without having to cheat and shoot using different middle grey values and then push/pull it in post to bring it back to normal.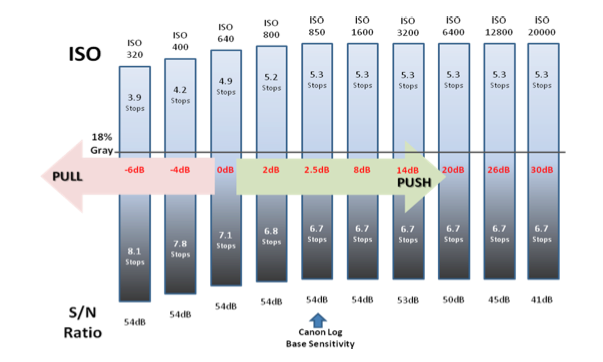 Remember that anytime you push or pull your image in post you are altering its quality by introducing the possibility of posterization depending on how far you re-adjust exposure, color correct or grade images. Pushing/pulling in post effectively increases (or descreases) the signal-to-noise ratio so the more accurate and consistent you expose your images in-camera when shooting C-LOG it will pay dividends in post and this is even more true if you are using a low bit-depth to record your images.