I was the Cinematographer for this years annual set of promo videos for the Movember campaign here in Canada and wanted to share my approach and some of the techniques I used to establish the overall "look" for the web-series. Each week as episodes are released I will add an entry to my blog to discuss them, so be sure to follow my blog and watch an exciting new episode each week . You can find them over on the Movember YouTube channel and feel free to post some comments over on their FaceBook FanPage.
First, for those who aren't aware Movember is a global and worldwide initiative where men with their "Mo's" raise vital funds and awareness for men's health, specifically prostate cancer and male mental health initiatives. The funds raised are directed to programs run directly by Movember and our men's health partner, Prostate Cancer Canada. Together, these two channels work together to ensure that Movember funds are supporting a broad range of innovative and world-class programs.
Introducing the League of Extraordinary Moustaches; a group sincere and devoted to spreading their message of awareness and helping regular guys feel extraordinary about their Mo's, no matter how thin or scraggly.
Scene from Episode #1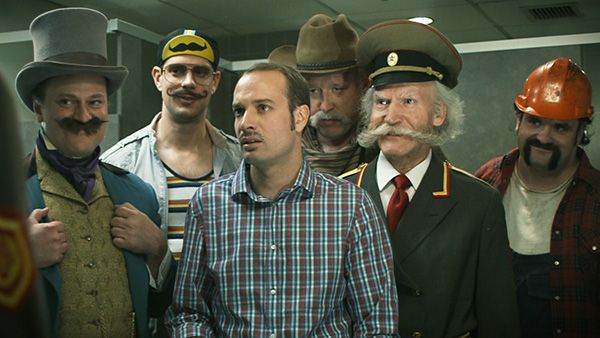 I worked for the AMAZINGLY talented Toronto Director Alex Hatz and we shot the four part web-series over a couple days in various locations in Toronto including the Fort York Armoury, Chorus Entertainment, and other locations I promised not to disclose… (one of them the girls washroom at Movember headquarters in Toronto as seen in the above image – tee hee hee!)
The camera hired for the job was the Sony PMW-F3 super 35mm video camera. It offered the kind of cinematic and movie-style look Alex wanted to produce in the short and did I mention ridiculously short amount of time we had to film over 50 camera setups in only two incredibly fast paced days! To the surprise of many the footage was recorded directly in-camera to Sony SXS media which means I used the XDCAM codec @ 35mbps at 8-bit depth in 420 color space.
"What 8-bit 420? Are you kidding – how'd you get images like that then?"
Scene from Episode #1
Obviously shooting with a camera like the Sony F3 means you're working with an extensive latitude of 12.5 – 13.5 stops dynamic range – but that doesn't mean you should try and expose a high contrast scene. In fact, the single best thing you can do when working with a "limited" codec is shoot with a low contrast ratio and I personally like to keep my overall scene ratio between 4:1 and 5:1 if possible. Later this will prevent trying to replicate the low-contrast look in post which as you probably know would not hold up all that well with 8-bit 420 originating footage. (In post it's more the low bit rate that is an issue than the color sampling itself).
Scene from Episode #1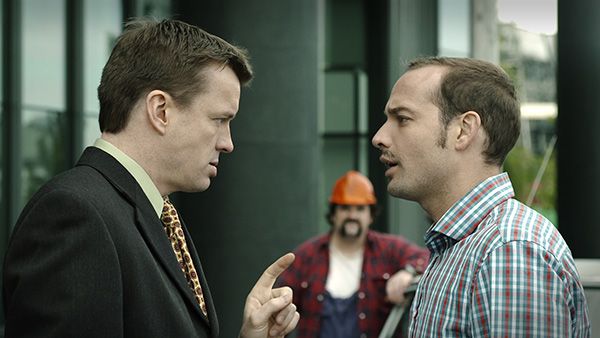 Second to controlling my overall scene exposure for a "smooth ride" in post was NAILING my SKIN EXPOSURE levels from scene to scene, shot to shot, minute to minute, and day to day. In post some minor tweaking was needed to match color temperature and skin tones here and there but it was my primary goal while shooting was to keep it as accurate and consistent as possible as I knew it would pay dividends later when working with such an aggressive schedule to turn it around.
For gauging exposure everyone has their favourite tool but I like using the built-in spot meter in the F3 (buried somewhere in the VF menu) along with my trusty battle tested Sekonic 508 light meter and I honestly never leave home without it. My light meter is calibrated to the established working ASA of my camera and is my sanity check for exposure particularly when I'm shooting scenes with people in them. During my shoots its not uncommon for me to run around and meter everyone's face and double check values.
Scene from Episode #1
In the weeks to follow more discussion on camera settings, which lenses I used, lighting control, color correction, and advanced grading in Premiere, camera equipment & crew…
"What? Advanced grading in Premiere without plug-ins are you CRAZY? That's impossible!"
YES – advanced grading in Premiere without plug-ins! You read that correctly so stay tuned….. and grow our Mo while you're at it!